Today's Market Overview
Today's Most Active - US
New York London Tokyo





ADVERTISE HERE
ADVERTISE HERE
180x180 Banner
on all the pages only
$99.00 a month

Top Stories CITIGROUP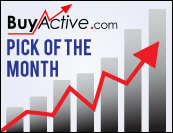 January 11, 2010 2:05am EST
By Dimitri Kanellopoulos, BuyActive.com
Pick of the Month - Citigroup February 2010
NEW YORK (BuyActive) - Here is my Pick of the month for February 2010, I am giving it to you several weeks in advance because Citigroup will issue its fourth quarter and full-year 2009 results on Tuesday, January 19, 2010. This gives investors a great opportunity to buy the stock at a huge discount, and it may be a once in a life time OPPORTUNITY...

Pick of the Month is not your average newsletter, it is a simple investment tool. A lot of thought goes into each selection, I don't just pull our monthly recommendations out of a hat.

Each stock I recommend has been evaluated to give you maximum earnings with a minimum amount of risk. Our target is to limit your downside risk while maximizing your profit by using sensible and realistic trading strategies.

Any time I put my money on the line I want to know the odds are on my side. You don't have to be right 100% of the time, no one is. Nor do you have to perfectly time the ups and downs. All you need to beat the market is just one good pick and Pick of the Month will help you do just that!

We do not promise unbelievable returns or a get rich quick scheme. We do believe that our visitors can achieve returns that are well above average by using BuyActive.com as a guide for their stock market investments.

You need to have a portfolio of solid stocks. Believe me, you will not want to miss these profit-making opportunities. Check out Pick of the Month and start making money from these winners.

As 2009 ends and 2010 begins, everybody is trying to figure in which stock to put their hard earned money to work for them. I think 2010 is going to be the year in which both the stock market and the real estate market really boom.

This is also the year we will see the comeback of the financial institutions, which have been severely beaten in the past two years. Based on our research and experience therefore, we have come to the following conclusion.
Dimitri Kanellopoulos, BuyActive.com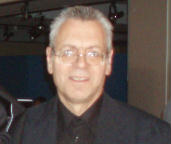 With a peek into the future, here is my Pick of the Month for February 2010.
Citigroup (C) - BuyActive.com Rating






Price on January 11 2010 $3.59
BuyActive.com Price target $5.75

Analyst Stock Recommendations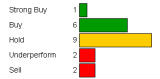 Don't Wait Buy Before It's Too Late. Citigroup shares have already dropped a great deal. This gives investors a great opportunity to buy the stock, maybe a once in a life time OPPORTUNITY... There won't be another offer this low... you must take advantage of it now!

The big guys paid $3.15 and the government refuses to sell for less than $3.25. At todays price (January 11, 2010) of $3.59 a share, it's a steal for the long term investor. The shares could easily quadruple in price over the next three years to $15.00. In 3 years you will be sorry you did not buy!

The big institutions are smart, they have invested close to 20 billion dollars which they bought at a huge discount. Citi will now be more attractive for certain institutional and major investors who may have stayed away due to the government control on management.

If you already own shares of Citigroup just hold and be patient. If you have any cash set aside, now would be the time to average down. If you don't own any shares, now is the time to buy. This could be the best long term financial stock left to buy at a huge discount. Like I said before, at $3.59 it's a steal!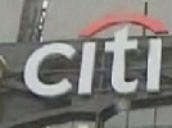 Corporate Profile:
"Citi, the leading global financial services company, has approximately 200 million customer accounts and does business in more than 140 countries. Through Citicorp and Citi Holdings, Citi provides consumers, corporations, governments and institutions with a broad range of financial products and services, including consumer banking and credit, corporate and investment banking, securities brokerage, transaction services, and wealth management."

New York – Citigroup will issue its fourth quarter and full-year 2009 results via press release at approximately 8:00 AM (EST) on Tuesday, January 19, 2010. At 11:00 AM (EST), results will be reviewed via live webcast and teleconference.

The press release,
webcast and presentation materials will be available at http://www.citigroup.com/citi/fin
A replay of the webcast will be available at http://www.citigroup.com/citi/fin/pres.htm

Citigroup (C) - Price on January 11, 2010 $3.59
BuyActive.com Price target $5.75 - BuyActive.com Rating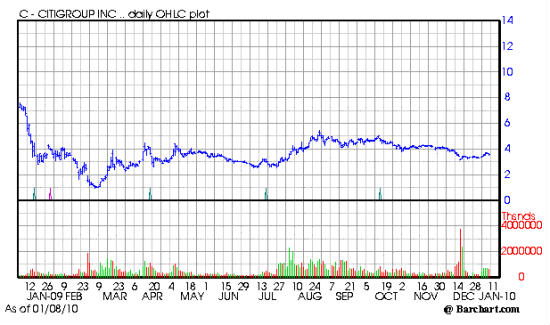 [ Home | Markets/Movers | News Headlines | World Stock Exchanges | Links | Terms
| Economic Calendar | Stock Trading | Forex Trading | Holiday Calendar | Video | Disclaimer
| About Us | Politics | Top Ten Picks | Portfolios | Privacy Policy | Advertise | Site Map | Contact ]



RECOMMENDED
STOCKS

Dimitri Kanellopoulos
You need to have a portfolio of solid stocks. Believe me, you will not want to miss these profit-making opportunities. Check out my top three picks and start making money from these winners.
Top Three Picks !!!
BAC--Bank of America
GE--General Electric
JNJ-Johnson&Johnson
BuyActive.com