Today's Market Overview
Today's Most Active - US
New York London Tokyo





ADVERTISE HERE
ADVERTISE HERE
180x180 Banner
on all the pages only
$99.00 a month

Top Stories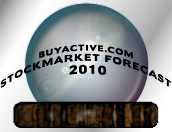 December 24, 2009
By Dimitri Kanellopoulos, BuyActive.com

NEW YORK (BuyActive) - Stock Market Forecast 2010
As 2009 ends and 2010 begins, everybody is working on their Stock Market Forecast. As we say goodbye to 2009, our thoughts turn to what lies ahead for the average investor. Therefore, with a peek into the future, here are my Stock Market predictions for 2010. This could be the biggest financial turnaround year of the decade.

We are in the second year of the scariest financial meltdown most people alive today have experienced in their lifetime.

In the past year or two, we saw some of the largest and most established financial institutions in the world on the edge of collapsing. Globally, governments had to help this sector by injecting cash into the financial markets.

Between 2007 and 2009, the stock market lost more than half of its value, and even investors with well diversified portfolios lost a considerable amount of their money. Today, at the end of December 2009, the stock market has been able to recover substantially. There are even some indications that investors' risk appetite is slowly returning.

The stock market has traditionally been one the leading economic indicators. It predicts in which direction the economy is heading in the next 6 to 12 months.

However, the stock market is not the only positive indicator. Important in an economic recovery is the housing market as well. Recently, this sector too has shown signs of stabilization which is very encouraging for the year 2010.

In 2010, the U.S. will see strong economic growth, while Europe and Japan will experience a more gradual recovery. The weaker dollar is helping US exports by making them cheaper abroad. I believe in the short term the dollar will continue to decline against other currencies, but will recover when interest rates start to rise to 1.5% by the end of 2010.

There are still many challenges facing the global economy. Banks have still not significantly increased their lending. In the short-term, inflation will not be an issue, but over the longer term, we are to expect some inflation.

The housing market will show its biggest growth for the next 12 months in 2010. Home prices are expected to rise slowly in most markets.

Many people have never lived through such a financial crisis so they have placed a great deal of their money in cash, in spite of the near-zero returns offered by savings and money-market accounts.

Eventually, all this money will have to be put to work again, and when it does, we will see a bull market. Great opportunities happen almost every day in the Stock Market and 2010 will be the year to buy financial stocks. This beaten sector will see a significant increase in value. Read below for some of my top picks.

I foresee the unemployment rate falling to the high single-digits in 2010 and ending up at around 8.5%.

Will the economy completely recover in 2010? Below is a list of my forecasts for 2010.

- The recession will be over and the economy will continue to expand by end 2010.
- S&P500 at 1310 by end 2010.
- U.S. unemployment rate will fall to 8.5% by end 2010
- Federal Funds Target Rate will rise to 1.5% by end 2010
- European Union Main Refinancing Rate will rise to 2.25% by end 2010
- Housing market will show biggest growth by end 2010
- The global economy should expand by about 3% by end 2010
- Oil price forecast at $88/BBL by end 2010
- Gold price projection $1170 per ounce by end 2010

Will the stock market bounce back up in 2010 to completely recover? Below is a list of my forecasts for 2010.

Here are the stocks for your financial success in 2010!





Top Three Picks 2010!!!
- BAC-Bank of America
- GE-- General Electric
- JNJ-Johnson&Johnson








TOP TEN PICKS 2010!





SYMBOL
NAME
52WK HIGH/LOW
RATING
BAC
Bank Of America
Strong Buy
52 Wk High/Low
$19.10/$2.53
GE
General Electric
Strong Buy
52 Wk High/Low
$17.52/$5.73
JNJ
Johnson & Johnson
Strong Buy
52 Wk High/Low
$65.41/$46.25
ORCL
Oracle Corporation
Strong Buy
52 Wk High/Low
$24.74/$13.80
GOOG
Google Inc.
Strong Buy

52 Wk High/Low
$600.37.64 /$282.75
C
Citigroup
Strong Buy

52 Wk High/Low
$7.59/$0.97
UPS
United Parcel Service
Buy
52 Wk High/Low
$59.75 /$37.99
AAPL
Apple Inc.
Buy
52 Wk High/Low
$208.71/$78.20
CVX
Chevron Corporation
Buy

52 Wk High/Low
$79.82/$56.12
NBG
National Bank of Greece
Buy

52 Wk High/Low
$8.37/$2.09

[ Home | Markets/Movers | News Headlines | World Stock Exchanges | Links | Terms
| Economic Calendar | Stock Trading | Forex Trading | Holiday Calendar | Video | Disclaimer
| About Us | Politics | Top Ten Picks | Portfolios | Privacy Policy | Advertise | Site Map | Contact ]



RECOMMENDED
STOCKS

Dimitri Kanellopoulos
You need to have a portfolio of solid stocks. Believe me, you will not want to miss these profit-making opportunities. Check out my top three picks and start making money from these winners.
Top Three Picks !!!
BAC--Bank of America
GE--General Electric
JNJ-Johnson&Johnson
BuyActive.com